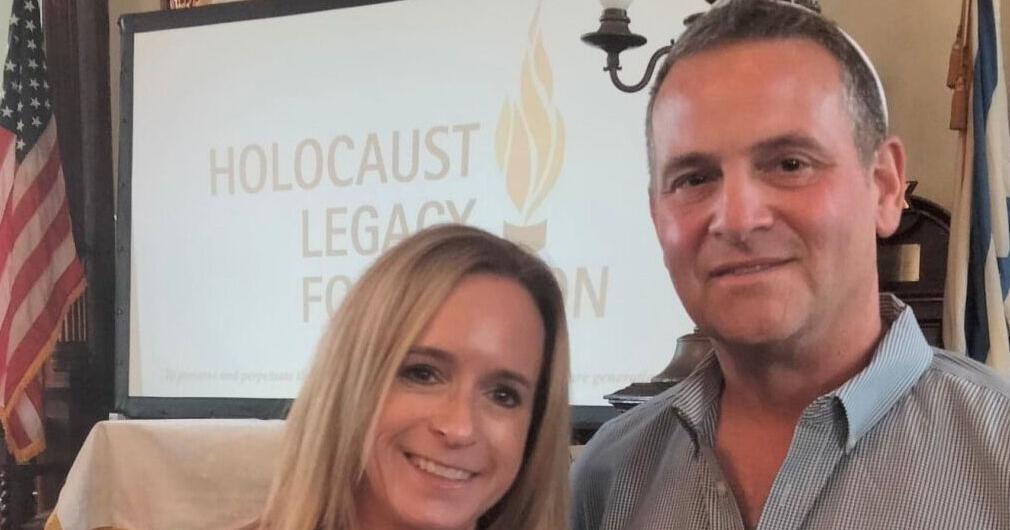 PEABODY — It was somber as images of the Holocaust played from a projector at the Congregation Sons of Israel in Peabody Sunday afternoon.
But "Never Again" will gain a renewed meaning at the new Holocaust Museum in Boston, as co-founder Jody Kipnis told the synagogue's crowd of about two dozen people.
"(Young people) need a place that will foster their sense of compassion and empathy; their identification with the victim in their understanding of suffering and oppression," Kipnis said. "But this is not enough. They need to know that one person can make a difference, and that each person must make a difference."
Kipnis is also the co-founder and president of the Holocaust Legacy Foundation. She grew up in Malden and lived in Middleton before moving to Boston, where the museum will stand along the Freedom Trail at 125 Tremont St. by October 2025.
The 15,000 square-foot museum will do more than just memorialize the 6 million Jews and 5 million other persecuted people the Nazis killed. Exhibits will show who these people were before being brutalized, and why future generations must never let anyone suffer this way again.
"We want visitors to leave asking questions. We don't want to give them the answers," Kipnis said. "We want them to ask themselves why? What am I doing here? What does the Holocaust have to do with me and my life today?"
Most featured stories will be from Holocaust survivors and liberators from New England. A hologram will be made of survivor David Schacter, a member of the Shoah Foundation who has become a friend to Kipnis and her co-founder, Todd Ruderman, so that visitors can hear his story even after his death.
A train car that was used to transport Jews to concentration camps will also be a part of the museum.
Kipnis hopes to have every high school student in New England walk through the museum after it opens and take part in its educational programming.
"We are in a transitional moment in Holocaust remembrance," Kipnis said. "The generation of Holocaust survivors is passing and we are moving from lived experience to historical memory.
"Sadly, the contemporary world has not made the issue of the Holocaust less radical, but unfortunately more so," she continued.
This was true when rioters who stormed the Capitol Building on Jan. 6, 2021, included neo-Nazis like the one who wore a "Camp Auschwitz" sweatshirt, which Kipnis showed in her presentation.
It was also true, she said, when a neo-Nazi killed a woman while rioting in Charlottesville, Virginia, in 2017, just as it was when a gunman murdered 11 people at a synagogue in Pittsburgh a year later.
And, more locally, when a group of masked neo-Nazis held antisemitic banners from overpasses in Danvers and Saugus last month and, earlier this year, distributed antisemitic pamphlets on the North Shore. The group NSC-131 claimed credit for the banner.
"We need to continue to work together to promote awareness in different ways not only with just the Holocaust, but all different events of tragedy that have happened across too many denominations of faith," said Sons of Israel's spiritual leader Cantor Seth Landau.
A Peabody police officer stood outside the synagogue on Sunday, as one has during events and high holidays there for the last decade.
It's not an uncommon trend for synagogues in the area. Nor should it have to continue.
"It's that empathy that has to come together," Landau said.
Kipnis shared a Cherokee parable during her presentation. In it, an old man tells his grandson of a war between love and hate raging inside of him — one that he said is ultimately brewing in each of us.
"The grandson then asked, 'Which will win?'" Kipnis read. "The old man replied simply: 'The one you feed.'"
Contact Caroline Enos at CEnos@northofboston.com and follow her on Twitter @CarolineEnos .